ABANGANE - meaning 'friends' in Zulu is aptly named. You may come as a guest but you will leave as a friend.
Abangane Guest Lodge is a small, exclusive lodge in Hazyview, close to the Kruger Park and the scenic routes of Mpumalanga.
The Lodge features:
Accommodation in 4 luxury rooms and 1 honeymoon room
Breakfast in the dining room, on the verandah or in the garden
A beautiful garden, overlooking the pool, with stunning views
Treadmill and Elipse Trainer in the garden
Lounge, breakfast room, heated pool and more
Peace and relaxation second to none
Superb, friendly service, and free WIFI
Well stocked fine wine cellar
Coffee, tea and home made cakes
Fireplace and fully licensed bar
In 2015, after 5 consecutive years of having received a certificate of excellence, we were promoted into the Trip Advisor Hall of Fame.
We were awarded a certificate of excellence again in 2016, 2017 and 2018.
In 2017 we were rated 'Exceptional' and were awarded 9.6 out of 10 by Booking.Com in the Guest Review Awards.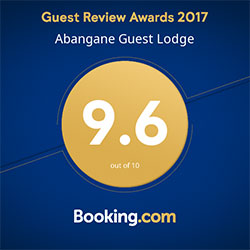 Contact us to reserve your place at Abangane Contact
mooie B&B. je wordt er zeer goed ontvangen en krijgt erg goede uitleg met wat je kan doen en zelfs…
We stayed for three nights in this guest house and we regretted we didn't book more nights.
The…
Wir sind zum Abschluss einer sehr schönen, erlebnisreichen zweiwöchigen Reise hier angekommen und…
Wir waren leider nur zwei Nächte hier, haben die Zeit allerdings sehr genossen. Sehr schöne Zimmer,…
Diese Lodge ist allemal ihr Geld wert.
Gleich zu Beginn: Die "Straße" zur Lodge ist ein sehr…
We first visited Abangane in 2016 and fell in love with the location and service provided. This was…
Großes sauberes Zimmer mit tollem Ambiente, die Lodge bietet einen schönen Ausblick ins Grüne, die…
We stayed at Abangane in December for three nights and all thoroughly enjoyed our stay. The rooms…
It was an excellent stay. The owners and the personnell were very friendly and suportive. We got several…
Abangane was a real "Find". Beautiful setting overlooking groves of macadamias and rolling hills.…