ABANGANE - meaning 'friends' in Zulu is aptly named. You may come as a guest but you will leave as a friend.
Abangane Guest Lodge is a small, exclusive lodge in Hazyview, close to the Kruger Park and the scenic routes of Mpumalanga.
The Lodge features:
Accommodation in 4 luxury rooms and 1 honeymoon room
Breakfast in the dining room, on the verandah or in the garden
A beautiful garden, overlooking the pool, with stunning views
Treadmill and Elipse Trainer in the garden
Lounge, breakfast room, heated pool and more
Peace and relaxation second to none
Superb, friendly service, and free WIFI
Well stocked fine wine cellar
Coffee, tea and home made cakes
Fireplace and fully licensed bar
In 2015, after 5 consecutive years of having received a certificate of excellence, we were promoted into the Trip Advisor Hall of Fame.
We were awarded a certificate of excellence again in 2016, 2017 2018, and 2019
In 2022 we were rated 'Exceptional' and were awarded 9.5 out of 10 by Booking.Com in the Guest Review Awards.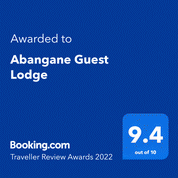 Abangane Guest Lodge has consistently produced a high satisfaction rating among guests and travel industry experts. Abangane Guest Lodge has received 54 reviews and earned an impressive guest rating of 9 out of 10 on HotelsCombined.
Contact us to reserve your place at Abangane Contact
Breakfast was my best ever. Neatness top notch
Beautiful and very clean suites in natural and gorgeous setting. Delicious breakfast and other treats.…
The host margrit, lovely and very welcoming
Nice design , breakfast , housekeeping
Margrit was so lovely and accommodating! The rooms were in superb condition and views were outstanding.…
Thank you so much for this wonderful time. The room was really nice and we loved the garden with the…
We were very happy with everything and enjoyed our short stay very much. The rooms are comfortable…
We had a wonderful stay at this amazing guest lodge in Hazyview. The location is perfect as it is…
The breakfast was exceptional, magret was welcoming and generous to give us a honeymoon room. Her…
The breakfast was delicious, the host and staff were great. Location was great, peace of mind. great…
Lodge is small so for a private experience it's perfect
neat , clean well maintained and views…