ABANGANE - qui signifie «amis» en zoulou est bien nommé. Vous venez en tant qu'invité, mais vous partirez comme un ami.
La résidence Abangane est un petit chambres d'hôtes exclusif à proximité du parc Kruger et des routes fameuses panoramiques de Mpumalanga.
La résidence dispose de:
4 chambres de Luxe et 1 chambre Romantique
Le petit déjeuner dans la salle à manger, sur la véranda ou dans le jardin
Un beau jardin, donnant sur la piscine, avec une vue imprenable
Marche sur tapis roulant et Cross Trainer dans le jardin
Salon, salle de petit déjeuner, piscine chauffée et plus
Paix et détente sans égal
Service superbe et amical, WIFI gratuit
Cave à vin exquis, bien garnie
Café, thé et gâteaux faits maison
Cheminée et bar bien equipe
En 2015, après 5 années consécutives d'avoir reçu un certificat d'excellence, nous avons été promu dans le Trip Advisor Hall of Fame.
Nous avons reçu un certificat d'excellence en 2016, 2017, 2018 et 2019.
En 2022, nous avons également reçu 9,6 sur 10 à Booking.Com dans les Guest Review Awards.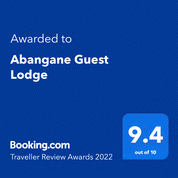 Abangane Guest Lodge has consistently produced a high satisfaction rating among guests and travel industry experts. Abangane Guest Lodge has received 54 reviews and earned an impressive guest rating of 9 out of 10 on HotelsCombined.
Contactez-nous pour réserver votre place à Abangane Contact
Breakfast was my best ever. Neatness top notch
Beautiful and very clean suites in natural and gorgeous setting. Delicious breakfast and other treats.…
The host margrit, lovely and very welcoming
Nice design , breakfast , housekeeping
Margrit was so lovely and accommodating! The rooms were in superb condition and views were outstanding.…
Thank you so much for this wonderful time. The room was really nice and we loved the garden with the…
We were very happy with everything and enjoyed our short stay very much. The rooms are comfortable…
We had a wonderful stay at this amazing guest lodge in Hazyview. The location is perfect as it is…
The breakfast was exceptional, magret was welcoming and generous to give us a honeymoon room. Her…
The breakfast was delicious, the host and staff were great. Location was great, peace of mind. great…
Lodge is small so for a private experience it's perfect
neat , clean well maintained and views…